With timeless qualities and a touch of European charm, Windsor captures the imagination of those wishing to tour a community famous for its family-friendly environment in a region known for winemaking, culinary arts and breathtaking vistas. Located in the Russian River Valley, this region is home to hundreds of wineries and tasting rooms where you can sample and pair local vintages with mild or zesty cheeses, gourmet chocolates, artisan breads, farm-grown produce and other regional delicacies.
Stroll the 19th century revival Old Downtown area. Savor Windsor's international cuisine featuring French, Italian, Chinese, Japanese, Vietnamese, Thai, Mexican, Middle Eastern and classic American cooking, accented by quaint coffee shops and sidewalk cafés. Each of Windsor's six major retail districts offers a distinct shopping and dining experience.
To make your stay even more memorable, enjoy the amenities offered at the lodges described in this website. No visit or vacation would be complete without taking time to relax and retool. Windsor has a variety of health, beauty and fitness spas, as well as hair, nail and tanning salons ready to serve you.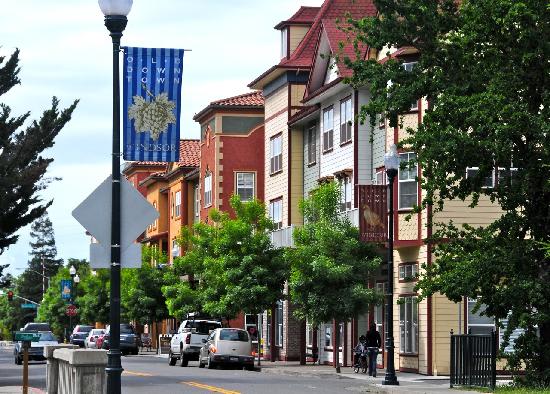 With more than 30 annual events free to the public, the Town Green is a venue known for its summer movie nights, concerts, Certified Farmers Market and special attractions including antique car shows, art fairs, heirloom tomato, zucchini and pumpkin festivals as well as cooking demonstrations featuring renowned local chefs. Holidays are special gathering times at the Town Green for Cinco de Mayo, Independence Day, Earth Day, Octoberfest, and seasonal holiday activities.
Windsor is also a center for athletic competitions -- such as the Half Marathon, 5K and 10K races and the annual Vineman Ironman 70.3 Triathlon and the Full Marathon -- along with a number of cycling, mountain biking, walking and trekking events staged in picturesque rural settings. In addition, each year Windsor hosts the popular Sonoma County Hot Air Balloon Classic and the "Wings Over Wine Country" Air Show.
The many local and regional parks, complete with bicycle and hiking trails, provide ready access to forests, highlands, valleys, lakes and riverfront. Stands of stately Redwoods, Live Oaks and Eucalyptus groves provide shaded paths to explore the flora and fauna of the great outdoors just minutes from downtown.
Windsor is a destination resort community you can visit any time of year on vacation or just for a weekend excursion.