Lavender is believed to be from the Mediterranean, Middle East and India with records dating back 2500 years ago. The ancient Egyptians used lavender for mummification and perfume. Romans used lavender oils for cooking, bathing and scenting the air. It was also recognized in Roman times for its antiseptic and healing qualities. In Medieval and Renaissance France clothes were washed in lavender and laid to dry on lavender bushes. Lavender was also used to fight infection and heal wounds. The Ancient Greeks used lavender to fight insomnia and back aches. Although lavender is no longer used for mummification or drying clothes modern research and technology has proven this plant to have extensive uses in our daily lives.
Often underestimated as simply a 'nice fragrance' the lavender plant has been introduced as the Queen of Medicinal Plants. Research has proven that lavender is effective in treating anxiety, fungal infections and hair loss. This medicinal plant may also be used to treat depression, high blood pressure, nausea, menstrual pain, or eczema. In addition Lavender has more recently become a popular way to expand culinary horizons. Savory to sweet, lavender's fragrant flavor complements a range of foods and drinks. ​​​​​​​
Speaking of food and drinks… ​​​​​​​Today this flowering plant of the mint family has become a favorite of Sonoma County Wine Country. With a similar climate to the mediterranean lavender is easily grown in Northern California. With some of the largest fields of lavender outside France, Sonoma County has named the month of June Lavender Month. In full bloom Lavender Month is celebrated with festivals, fairs, and lavender infused Food and Drinks.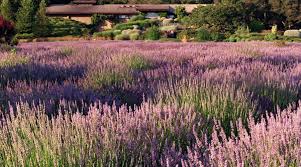 Lavender Lover's Bucket List:

Visit the Lavender Fields of Matanzas Creek Winery in Bennett Valley.
Lavender Mojito by Sondra Bernstein, girl and the fig
Makes 2 cocktails
4 ounces light rum
16–20 fresh mint leaves
Juice of 2 limes
2 ounces Lavender Simple Syrup
Club Soda
Lavender sugar rim or lavender sprigs, for garnish
Muddle the mint leaves in the bottom of a pint glass. Add the rum, lime juice, and lavender simple syrup and muddle a bit more. Add the ice, stir, and top with a splash of Club Soda. Garnish with a lime wedge, mint leaves or a lavender sprig.
Lavender Simple Syrup
1 cup sugar
3 tablespoons culinary lavender
In a saucepot, bring 1 cup of water, sugar, and lavender to a boil. simmer until the sugar has completely dissolved. Turn off the heat and let sit until cool. strain the mixture through a fine mesh strainer and discard the lavender. Store the lavender simple syrup in the refrigerator for up to 1 month.
Note: Adjust the amount of lavender and the steeping time based on the strength of the lavender and your personal taste.
Lavender Sugar
½ cup superfine sugar
¼ cup culinary lavender
Place lavender and sugar in a coffee grinder and grind to a fine dust. (Photo by Steven Krause/Plats du Jour)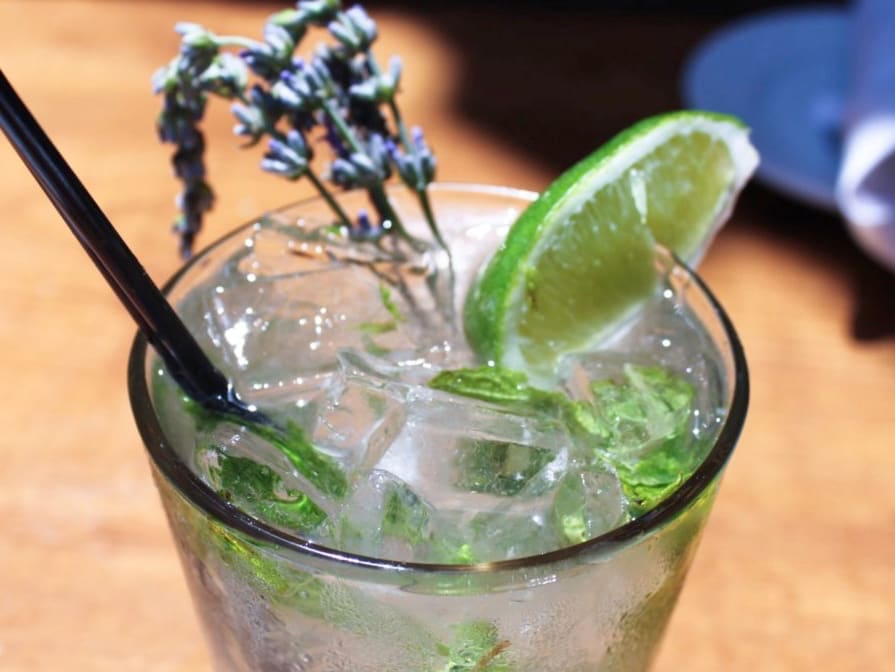 Nimble & Finn's in Guerneville scoops up some of the best artisan ice cream in Sonoma County, including a much-loved Lavender Honeycomb.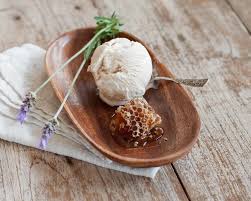 ​​​​​​​The Spa Hotel Healdsburg offers massages, wraps, scrubs and facials that use products sourced from Sonoma County farms, including a restorative lavender peppermint massage. During the treatment, warm compresses of healing Himalayan salt and local herbs are placed along "meridian lines" to detoxify and balance the body. The spa's special massage techniques soothe tight muscles, while rich lavender body butter from Matanzas Creek Winery hydrates and nourishes the skin. 327 Healdsburg Ave, Healdsburg 95448, 707-433-4747, ​​​​​​​